Riding of Ravensbridge
Upcoming Local Events
Ravensbridge is a local SCA group for the Augusta - Lewiston/Auburn neighborhood. We are a subgroup within the Province of Malagentia, which is part of the Kingdom of the East. We exist to encourage and enable local meetings and events, and build support and interest for our province, Kingdom and the SCA as a whole.
What's the SCA? The Society for Creative Anachronism is a non-profit educational organization dedicated to re-creating the best parts of Medieval and Renaissance civilization - graciousness, courtesy, and chivalry.
Ravensbridge members hold business meetings on the third Thursday of the month. Location may vary, usually either Winthrop or Lewiston/Auburn, check our calendar page or Facebook Group for confirmation.
We hold Arts & Science workshops in Auburn and other locations — see our calendar or Facebook group for dates & times.
During the school year, we have a weekly inside fencing and heavy list (fighting) practice site in Manchester, more info on the calendar page.
Huginn & Muninn - The riding holds an event that includes Fencing, Arts & Sciences, Archery and food. Check our Calendar section for details.
Our device, approved: This is our representational heraldry in the Society.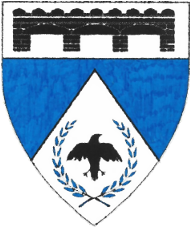 Events
Participation — Creating the Modern Middle Ages
Events, both big multi-day and small, focused get-togethers are the lifeblood of the SCA.
Find out what's going on -
Ravensbridge Yule, December 15, 12 Noon, Hayford Hall, Canton Historical Society, Canton ME - EK Event page


Business Meetings

Held on the third Thurday of the month, see the Calendar for details.

Local Indoor Practice

Details on the calendar page. Generally weekly, Wednesday around 6pm - 8:00ish, during the school year in the Manchester Elementary School gym, just off Rt. 17, on School Street, Manchester, Maine.
Not all Wednesdays, please check Facebook or the Calendar page for current details.

Huginn and Muninn

We host a full day event in the late spring, open to all, details on the event for 2019 will be forthcoming.

Outdoor Archery

Some Evenings or weekends during the warmer months. See the Calendar page for details. Shedule can be irregular due to events and weather.

Demos

- More information to come, largest is the Great Falls Balloon Festival in August

Great Northeastern War

July 2019, Province of Malagentia, Hebron Pines Campground, Hebron, Maine
Who are we? What do we do?
Who we are...
Participants in the SCA strive to recapture the ambiance of the Middle Ages and Renaissance. This requires research into such topics as dress, weaponry, armor, food - any and all facets of medieval life. But more than research or playing "make-believe", the SCA promotes self-sufficiency and creativity by actively encouraging the practice of many of the forgotten crafts which were once basic to life.
The SCA sponsors many different events. There are numerous revels (the medieval equivalent of the modern party), seminars, demonstrations, wars and tournaments. Feasts are served which recreate medieval repasts, with authentic recipes and entertainment. There are also various craft guilds which hold meetings for those interested in specific arts. Seminars or Collegia are also held on topics of educational interest to members and other students of medieval history. Between tournaments and other medieval events, our branch holds regular meetings.
These meetings are announced on our Facebook group site and are usually held in the Augusta and Lewiston/Auburn area, and include business meetings, where the practical matters of running the organization and planning events are discussed, classes where the subjects range from heraldry to life in the Middle Ages, and from costuming to knitting chain mail.
While Society events are colorful to observe, the deeper satisfaction comes from being a participant. One need only experience the feeling of accomplishment which comes from having a piece of research result not just in printed paper, but in a suit of mail, a costume, or a medieval dish. In addition to having fun, we gain a little wider perspective on our world and ourselves by learning to do as our ancestors might have done. By discovering things about our past, we realize things about ourselves. We walk not backward into the future, but forward into the past. (Original text published by Barony of Thor's Mountain. Reprinted with permission.)
News and Information
The Written Word – Groups, Publications and Other Writing
Read our newsletter, check out more information about SCA groups in the area and around the world. New newsleters soon!
The Corvus, our Riding's Newsletter
Officers & Stewards
Officers, Contact Information
Seneschal
Lord Magnus Morté
seneschal (at) ravensbridge.eastkingdom.org
Herald
Lord Magnus Surtsson
herald (at) ravensbridge.eastkingdom.org
Exchequer
Lady Mairghread Huntley
exchequer (at) ravensbridge.eastkingdom.org
Chatelain
Lady Sigrid Arnsdottir
chatelain (at) ravensbridge.eastkingdom.org
Chronicler
Amy O.
chronicler (at) ravensbridge.eastkingdom.org
Minister of Arts and Sciences
Brandon M.
moas (at) ravensbridge.eastkingdom.org
Heavy List Marshal
Perley of Malagentia
Contact through Mary of the High Hills
Webminister
Lord Aloysius
webminister (at) ravensbridge.eastkingdom.org
Huginn & Muninn A.S. 54 (2019)
Autocrats
Feast Steward
Information for Holding Events
How to Find Us
Where is the Riding of Ravensbridge?
Perhaps a map of the area will help.